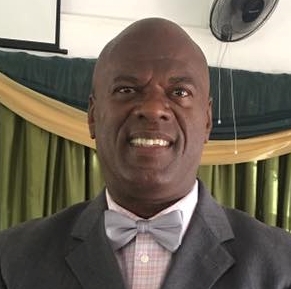 Bishop Melvin Huriah Rhymer, Jr is a native of St. Croix U.S. Virgin Islands and is a dedicated husband to his wife, Pastor Julie Modeste-Rhymer, who is his partner in ministry, confidant, and friend.
Bishop Rhymer emerged out of what he calls the "gas chamber of religion" where he served faithfully for seven (7) years.  In his eighth year, (year of jubilee and victory), God opened a door where he could worship and praise God (his favorite aspect of the gospel) freely without limitations.  He states that this period developed and prepared him for his present journey as the Spiritual covering of the church aspect of TWIGS Ministry, Inc.  He was ordained Bishop of the ministry in St. Croix on August 20, 2011 and obtained an Honorary Doctorate for his commitment and pursuant of spiritual learning on November 6, 2011.  Bishop Rhymer launched out in faith with a small group when a door opened for independent ministry on September 22, 2012.  He has a strong desire to bring his family, the men of his district, and associates of his youths, and those encountered through his life's routine to a committed relationship with Jesus Christ.
By profession, Bishop Rhymer is a self-employed entrepreneur of a trucking company for 30 years, He is dedicated to serving the Lord and supporting his wife as she pastors/manages the church aspect of the church/women's ministry.  Bishop Rhymer has a Spanish family background which enables him to use his bilingual skills to minister to the Spanish community.  Bishop Rhymer is known as the weeping Bishop and has a passionate heart for God's people.  He is a committed man of prayer and takes literally the written word of God and applies them diligently to every area of his life and ministry.  He is a visionary and foresees the building of a home for children/youths, the lost, outcast, and spiritually oppressed.
His favorite greeting is … Glory – Hallelujah! Gloria ah Dios!